MSFT MANAGEMENT CLIENTS NEWSLETTER 
November Client Round-Up
 KEVIN LAYNE
A Mercenary, A Pilot, A Rebel, A Drug Dealer; but let's not typecast Kevin, he can do comedy too!
 What a roller coaster year for Kevin Layne, thank's to Casting Director Nina Gold, who kept him busy with two features and a TV role! Kevin is still on cloud nine, after working with Spanish film director, J.A. Bayona, on 'JURASSIC WORLD: Fallen Kingdom' (previewing June 22, 2018) and American film director, Rian Johnson,  on 'STAR WARS: The Last Jedi' (in cinemas December 15, 2017). Over the summer, Kevin was filming another feature called, 15 MINUTES DE GUERRE, in Morroco, by French film director, Fred Grivois. The film is based on a true story about a school bus that was taken hostage from the air base in Djibouti, in 1976. Kevin plays a Somalian called, 'Barkhad' who is the leader of the rebels responsible for taking the schoolchildren hostage.  The film is produced by Capture the Flag and will premier 2018. Kevin ended the year in Glasgow, filming 'Patrick Melrose' a new TV Mini-Series by German film director, Edward Berger. While Kevin is excellent at playing 'baddies' and transforming himself from an American to a Somalian with ease, he is also very keen to show-off his more vulnerable, lovable side in 2018!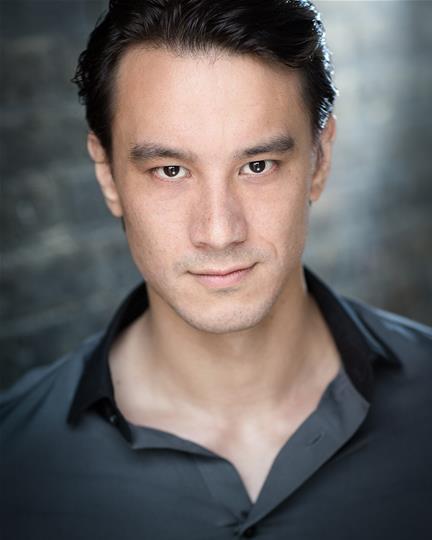 MATTHEW LEONHART 
A recipient of the Top 40 Artists Under 40 Award by Perspective Magazine.
Matthew is one of those lucky actors that can work effortlessly on stage and screen. Recent reviews include; "Matthew Leonhart, who provided a solid performance all evening, he really shines…Equally charming and terrifying…totally mesmerizing to watch…Leonhart proves he can deliver comedy as successfully as drama."(thepublicreviews)  –  See, it's not only his agent and his mother that think's Matt is special!  I will let you in on a little secret about Matt, he studied at the California Institute of Arts, there, he picked up an American accent that he decided to keep and which probably helped to land him his current recurring role in Berlin Station for Epix's – of course, we also need to thank Casting Director Kate Ringsell for taking a chance on him too!
ARIANA-LEBRON METZNER
This Latina, (who is also fluent in German), is full of love for life and is beautiful inside and out. Ariana is pure positive energy and we are so happy to be celebrating her nomination for best actress in the feature film, 'Flor de azúcar' on Thursday 30th November.
AGATHE FERRÉ
A young French actress living in London and one of our newest clients, Agathe emphasizes a sincere and genuine acting approach. Agathe can be seen in Anna Alfieri's 2017 Feature Film 'BORDERLINE,' as well as Bruce Burgess' 2017 show 'PRIVATE LIVES OF THE MONARCHS' where Agathe was cast to play elegant Queen Charlotte. Bilingual in both English and French and trained at Reims Conservatoire in France.
DILEK ROSE
Dilek is a seasoned theatre performer and a graduate of Bristol Old Vic.  This year Dilek was on two tours with 'OCTOPUS' , written by Afsaneh Gray and directed by Pia Furtado and the 'TWIST', written by Chino Odimba and directed by Natalie Wilson for Theatre Centre.  Dilek has a powerful look and stage presence and is perfect for Middle Eastern TV roles as well as classical theatre heroines.
ALEX FORMAN
A new client with a great track record of winning people over! He is enthusiastic, eccentric and always plays character roles with a twist. Alex is currently in HONG KONG performing in'Project Mayhem', an immersive show based on the film 'Fight Club.  From his turn as Warden Freeman at the'ALCOTRAZ COCKTAIL BAR' to his role as Dame Nanny Nakeroo in 'SNOW WHITE AND THE SEVEN DWARFS', Alex never wanes.  He was born to play comedy roles as perfect for children's shows.
MEGAN AFFONSO
Megan Affonso is a new client in need of a break! Don't misunderstand me, we are grateful for all the TV Casting and offers, but can we please get her in the room for a speaking role? Megan is a Euro-Asian actress, half Portugees and half Korean and professional musician. She can sing, (she even has her own band) and play the Cello and the Piano to a very high level. There is a perfect role out there for Megan, I just know it!
JANINA SMITH
Janina is an Agency Favourite and one of our hardest working clients. In fact, we have to remind her to sleep sometimes! Edgy, stylish and really funny, Janina makes you laugh one minute and cry the next. She has the energy to carry a solo show, (DYSPLA's 2017 production of,  'YOU WILL FAIL HER), and the generosity of spirit to share the focus in immersive theatre. A trained dancer with tons of alternative performance credits under her belt, but all she really wants for Christmas is a speaking role on Telly.
REKHA JOHN CERIANYN
Rekha has a background in Broadcast Journalism with an excellent RP accent, who is well-suited for those TV/Feature film news anchor characters, as well as theatre and comedy roles. Or better yet, which she could do with precision. Rekha joined the agency in 2014 and has not stopped working. Rekha just finished performing in 'Much Ado About Nothing' directed by Paul Anthony at Waterloo East Theatre and has a great mix of credits. Just to top it all off, she is an excellent singer too.
REBECCA WARD
Rebecca is a classically trained singer and theatre performer. She is currently performing  'Inside Pussy Riot' at the Saatchi Gallery, until 24th December 2017. Rebecca has worked with Les Enfants Terribles and Secret Cinema repeatedly, which is a testament to her professionalism and versatility. We discovered Rebecca at SundaySurgery earlier this year and have seen her perform an array of roles – she is a firecracker waiting to light up the sky!